Rule Editor
Rule editor is used in creating rule-based path for flow campaign, or creating armors. With this editor, you are able to set complicated rules to separate traffic or protect your campaigns.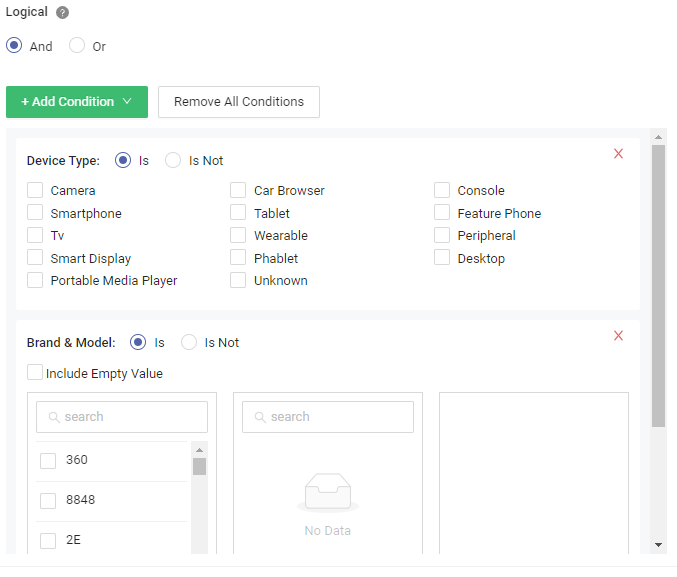 Logical​
The rules logical is the relationship between rules.
And. If logical "and" is selected, then visitor is selected when he/she matches all rule.

Or. If logical "or" is selected, then visitor is selected when he/she matches any one of rule.
Supported Metrics​
MaxConv support following rule metrics when adding armors or setup flow campaigns:
Bot. Is bot or not, here is the list of detected bots

Brand & Model. Mobile device brands and its model

OS & Version. Operating system name and its version

Browser & Version. Browser name and its version

Device Type. The type of visitor's device.

Country / Region / City / ISP / Connection Type. The geographic data and information of visitor, which is deteced based on their IP address

IP. The IP address of visitors, support exact IP address and CIDR subnet format.

Request Headers. The request headers information of visitors, for example, we can spot those visitors whose Accept-Language header is *en-US*.

Url Param. The url query parameters of visitor's request.

Time of the Day / Day of the Week

Tokens
Add & Remove Conditions​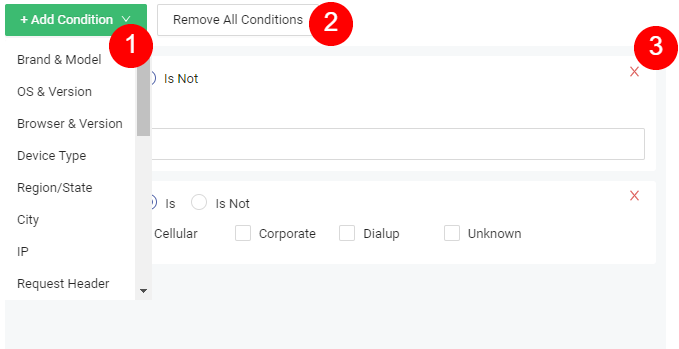 Click the green Add Condition button, there is a a drop-down of available condtions, click the appropriate one to add corresponding condition.

If you want to remove all conditions, click this button.

If you want to remove one of added conditions, click the red x on the top right of condition box to remove it.
Unknown​
Whether to include unknown value or not, if the checkbox is marked, then any unknown value will be treated as matched(regardless of operator).
List of Detected Bots​
360Spider, Abonti, Aboundexbot, Acoon, AdAuth, Adbeat, AddThis.com, ADMantX, ADmantX Service Fetcher, Adsbot, adstxtlab.com, aHrefs Bot, AhrefsSiteAudit, aiHitBot, Alexa Crawler, Alexa Site Audit, Allloadin Favicon Bot, Amazon Bot, Amazon ELB, Amazon Route53 Health Check, Amorank Spider, Analytics SEO Crawler, ApacheBench, Applebot, AppSignalBot, Arachni, archive.org bot, ArchiveBox, Ask Jeeves, AspiegelBot, Awario, Awario, Backlink-Check.de, BacklinkCrawler, Baidu Spider, Barkrowler, BazQux Reader, BDCbot, Better Uptime Bot, BingBot, Birdcrawlerbot, BitlyBot, Blekkobot, BLEXBot Crawler, Bloglovin, Blogtrottr, BoardReader, BoardReader Blog Indexer, Bountii Bot, BrandVerity, Browsershots, BUbiNG, Buck, BuiltWith, Butterfly Robot, Bytespider, CareerBot, Castro 2, Catchpoint, CATExplorador, ccBot crawler, CensysInspect, Charlotte, Choosito, Cincraw, CISPA Web Analyzer, Cliqzbot, CloudFlare Always Online, CloudFlare AMP Fetcher, Cloudflare Diagnostics, Cocolyzebot, Collectd, colly, CommaFeed, Comscore, ContentKing, Cookiebot, Crawldad, CriteoBot, CrowdTangle, CSS Certificate Spider, Cốc Cốc Bot, Datadog Agent, DataForSeoBot, datagnionbot, Datanyze, Dataprovider, DataXu, Daum, Dazoobot, deepnoc, Discobot, Discord Bot, DNSResearchBot, DomainAppender, DomainCrawler, Domain Re-Animator Bot, Domains Project, DomainStatsBot, DotBot, Dotcom Monitor, DuckDuckGo Bot, Easou Spider, eCairn-Grabber, EFF Do Not Track Verifier, EMail Exractor, EmailWolf, Embedly, evc-batch, ExaBot, ExactSeek Crawler, Expanse, Ezooms, eZ Publish Link Validator, Facebook External Hit, Faveeo, Feedbin, FeedBurner, Feedly, Feedspot, Feed Wrangler, Fever, Findxbot, Flipboard, FreeWebMonitoring, FreshRSS, GDNP, Generic Bot, Generic Bot, Genieo Web filter, Gigablast, Gigabot, GitCrawlerBot, Gluten Free Crawler, Gmail Image Proxy, Gobuster, Goo, Googlebot, Google Cloud Scheduler, Google Favicon, Google PageSpeed Insights, Google Partner Monitoring, Google Search Console, Google Stackdriver Monitoring, Google StoreBot, Google Structured Data Testing Tool, Gowikibot, Grammarly, Grapeshot, GTmetrix, Hatena Favicon, Headline, Heart Rails Capture, Heritrix, Heureka Feed, HTTPMon, httpx, HuaweiWebCatBot, HubPages, HubSpot, ICC-Crawler, ichiro, IDG/IT, Iframely, IIS Site Analysis, Infegy, InfoTigerBot, Inktomi Slurp, inoreader, InternetMeasurement, IONOS Crawler, IP-Guide Crawler, IPIP, IPS Agent, JungleKeyThumbnail, K6, Kaspersky, KomodiaBot, Kouio, Kozmonavt, l9explore, l9tcpid, Larbin web crawler, LastMod Bot, LCC, Let's Encrypt Validation, Lighthouse, Linespider, Linkdex Bot, LinkedIn Bot, LinkpadBot, LinkPreview, LTX71, LumtelBot, Lycos, MaCoCu, Magpie-Crawler, MagpieRSS, Mail.Ru Bot, masscan, masscan-ng, Mastodon Bot, Meanpath Bot, Mediatoolkit Bot, MegaIndex, MetaInspector, MetaJobBot, MicroAdBot, Mixrank Bot, MJ12 Bot, Mnogosearch, MojeekBot, Monitor.Us, MTRobot, Munin, MuscatFerret, Nagios check_http, NalezenCzBot, nbertaupete95, Neevabot, Netcraft Survey Bot, netEstate, NetLyzer FastProbe, NetResearchServer, NetSystemsResearch, Netvibes, NewsBlur, NewsGator, Newslitbot, Nimbostratus Bot, NLCrawler, Nmap, Notify Ninja, Nutch-based Bot, Nuzzel, oBot, Octopus, Odnoklassniki Bot, Omgili bot, Onalytica, Openindex Spider, OpenLinkProfiler, OpenWebSpider, Orange Bot, Outbrain, Page Modified Pinger, PagePeeker, PageThing, PaperLiBot, parse.ly, PayPal IPN, Petal Bot, Phantomas, PHP Server Monitor, Picsearch bot, PingAdmin.Ru, Pingdom Bot, Pinterest, PiplBot, Plukkie, PocketParser, Pompos, PritTorrent, Project Patchwatch, Project Resonance, PRTG Network Monitor, QuerySeekerSpider, Quora Bot, Quora Link Preview, Qwantify, Rainmeter, RamblerMail Image Proxy, Reddit Bot, Riddler, Robozilla, RocketMonitorBot, Rogerbot, ROI Hunter, RSSRadio Bot, Ryowl, SabsimBot, SafeDNSBot, Scamadviser External Hit, Scooter, ScoutJet, Scrapy, Screaming Frog SEO Spider, ScreenerBot, security.txt scanserver, Seekport, Sellers.Guide, Semantic Scholar Bot, Semrush Bot, Sensika Bot, Sentry Bot, Seobility, SEOENGBot, SEOkicks, SEOkicks-Robot, seolyt, Seolyt Bot, Seoscanners.net, Serendeputy Bot, serpstatbot, Server Density, Seznam Bot, Seznam Email Proxy, Seznam Zbozi.cz, ShopAlike, Shopify Partner, ShopWiki, SilverReader, SimplePie, SISTRIX Crawler, SISTRIX Optimizer, Site24x7 Website Monitoring, Siteimprove, SitemapParser-VIPnytt, SiteSucker, Sixy.ch, Skype URI Preview, Slackbot, SMTBot, Snapchat Proxy, Snap URL Preview Service, Sogou Spider, Soso Spider, Sparkler, Speedy, Spinn3r, Spotify, Sprinklr, Sputnik Bot, Sputnik Favicon Bot, Sputnik Image Bot, sqlmap, SSL Labs, Startpagina Linkchecker, StatusCake, Superfeedr Bot, SurdotlyBot, Survey Bot, Tarmot Gezgin, TelegramBot, TestCrawler, The Knowledge AI, theoldreader, ThinkChaos, TigerBot, TinEye Crawler, Tiny Tiny RSS, TLSProbe, TraceMyFile, Trendiction Bot, Turnitin, TurnitinBot, TweetedTimes Bot, Tweetmeme Bot, Twingly Recon, Twitterbot, UkrNet Mail Proxy, uMBot, UniversalFeedParser, Uptimebot, Uptime Robot, URLAppendBot, Vagabondo, Velen Public Web Crawler, Vercel Bot, VeryHip, Visual Site Mapper Crawler, VK Share Button, W3C CSS Validator, W3C I18N Checker, W3C Link Checker, W3C Markup Validation Service, W3C MobileOK Checker, W3C Unified Validator, Wappalyzer, WebbCrawler, WebDataStats, Weborama, WebPageTest, WebPros, WebSitePulse, WebThumbnail, WellKnownBot, WeSEE:Search, WeViKaBot, WhatCMS, WhereGoes, WikiDo, Willow Internet Crawler, WooRank, WooRank, WordPress, Wotbox, XenForo, YaCy, Yahoo! Cache System, Yahoo! Japan BRW, Yahoo! Link Preview, Yahoo! Mail Proxy, Yahoo! Slurp, Yahoo Gemini, YaK, Yandex Bot, Yeti/Naverbot, Yottaa Site Monitor, Youdao Bot, Yourls, Yunyun Bot, Zaldamo, Zao, Ze List, zgrab, Zookabot, ZoominfoBot, ZumBot